NEWS
Introducing IFBMW-S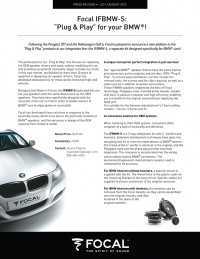 FOCAL IFBMW-S: "Plug & Play" for your BMW!
Following the Peugeot 207 and the Volkswagen Golf 6, Focal is pleased to announce a new addition to the "Plug & Play" products in our Integration line: the IFBMW-S, a separate kit designed specifically for BMW® cars!
Focal Prof. Showcase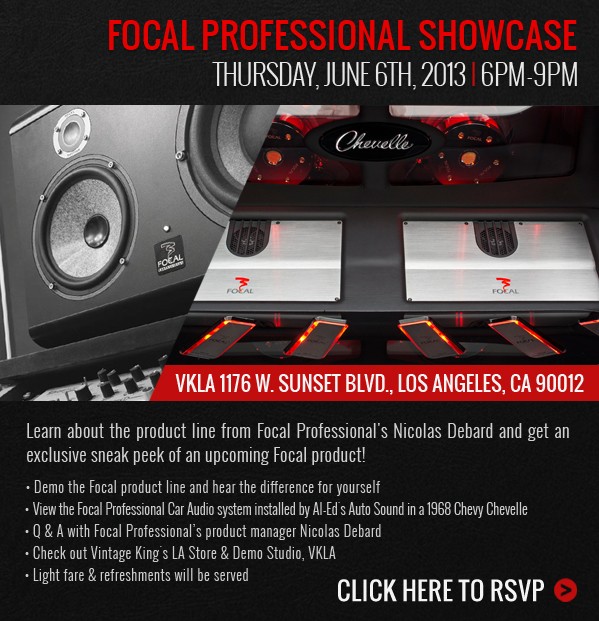 "If you are in the Los Angeles area on June 6th, make sure not to miss the Focal Showcase at Vintage King Los Angeles! We'll have all the Focal Professional monitors as well as a Focal Utopia Reference system with Electro-Magnet subwoofer, and, to top it off, we'll have a Chevelle 1968 fully equipped with a Focal system too!"
Details: Thursday, June 6th, 2013 | 6PM-9PM
Location: VKLA 1176 W. Sunset Blvd., Los Angeles, CA 90012
Focal visits Al & Ed's
Focal meets with Elie Rothstein of Al & Ed's Autosound in West Hollywood, CA.
Watch it in HD on our YouTube channel!
Focal visits Benchmark
Focal speaks with Scott Whitehead of Benchmark Motoring in Bellevue, WA.
Watch it in HD on our YouTube channel!
Focal visits Waves & Wheels
Focal meets with Justin Wagner of Waves & Wheels in Osage Beach, Missouri.
Watch it in HD on our YouTube channel!
Focal Visits Dragonfly
Focal visits with Kevin Martin, owner of Dragonfly Cycle Concepts in Anaheim, CA.
Watch it in HD on our YouTube channel!
Focal in America 2012
Leaders in the 12 volt industry discuss Focal's impact in the American marketplace!
Click here to watch it on the Focal America YouTube channel
Spirit One Headphones
Introducing Focal Spirit One headphones! The first in their line, Spirit Ones come fully accessorized.


Included: Remote control, 3.5mm /6.35mm jack adapter, Rigid storage case, Airplane connector, Transport cover, & a Jack adapter cord compatible with any smartphone.

Please contact your local authorized Focal dealer for more information.

Crutchfield Catalog Cover
Check out FOCAL on the cover of the new February/March 2012 Crutchfield catalog!
Be sure to pick one up and read John Pollard's great article about Focal products on page 30 entitled "The Anatomy of an Amazing Car Speaker." Or you can read it online at Crutchfield.com!

2012-2013 Focal Catalog
Check out the 2012-2013 Focal Car Audio catalog! Available in PDF format, optimized for tablet viewing.
Download here: Focal Catalog 2012 (4MB)