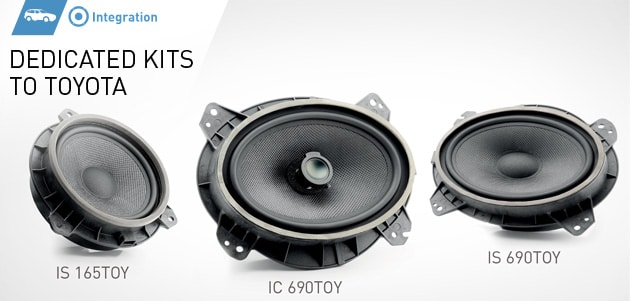 After the success of the "plug and play" speaker driver range launched in 2011 with the IFP207 kit, Focal is reinforcing this family with three new references dedicated to vehicles made by Toyota®.
Improving the musicality of OEM systems, without modifying the vehicle and keeping the original head unit: the market for this type of technical solutions is booming. After having targeted the European brands Peugeot®, Volkswagen® and BMW®, Focal is now enriching its "plug and play" range with dedicated kits for Toyota® vehicles.
The Japanese car manufacturer, a world leader and a global distributor, represents important new market prospects for Focal. The Corolla® model was actually the second best selling vehicle in 2013, whereas the Camry® held the fifth place that same year. Focal's choice to expand its range to Toyota® also comes down to technical reasons: the brand mostly uses two standard types of speaker driver, 61/2″ and 6″x9″ elliptical speaker drivers. This homogeneity throughout their models enables Focal to equip a great deal of vehicles made by the Japanese brand.
On the basis of these observations, Focal has added 3 new products to its offer. Two 2-way component kits, IS165TOY (61/2″) and IS690TOY (6″x9″), can equip the Japanese manufacturer's factory locations up front. The IC690TOY on the other hand is a 2-way coaxial kit with elliptical speaker drivers suited for the front or rear factory locations in Toyota® vehicles.
Yaris®, Auris®, Rav4®, Hilux®, Prius®, Camry®, Tacoma®… Focal's dedicated kits enable you to improve the musicality of the numerous Toyota® models widespread in Europe and the rest of the world!
Designed for perfect integration:
About the design: ABS baskets for a look which matches the manufacturer's equipment and foam soundproofing joints, rivets provided, Toyota® connectors, compact tweeters including accessories to ensure they fit perfectly into the factory locations, built-in crossovers for directly connecting to the vehicle's harnesses, Focal's Toyota® kits have been designed to ensure easy installation and perfect integration.
Focal technology for improved musicality:
In order to offer such great musicality and value for money, these new kits are equipped with Focal's benchmark technologies: glass fibre cone with butyl suspension for improved neutrality and impressive bass, TIS 1.5 aluminium inverted dome tweeter for increased precision in the high frequencies. Thanks to their high efficiency (over 90dB), the dedicated kits for Toyota® provide excellent dynamics using the original head unit. In addition to providing a quick and easy way to enhance OEM systems, these speaker drivers go one step further and provide high power handling, allowing them to be used with a power amplifier, resulting in an even more remarkable high-fidelity system.
Key points
Perfect integration without modifying the vehicle
Easy to install thanks to the accessories supplied
Richer sound without changing the factory head unit – Great value for money