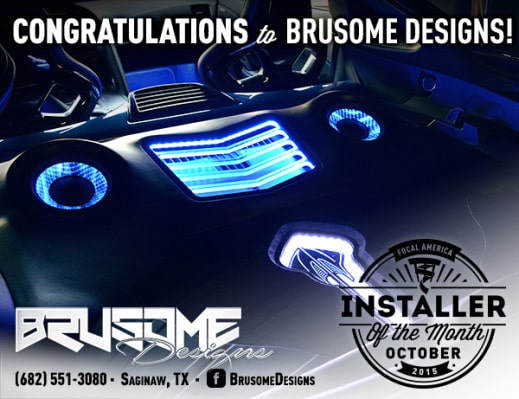 Congratulations to Gavino Rivera and Brusome Designs in Saginaw, TX for winning the honor of Focal's October Installer of the Month!
Brusome's 2015 Chevy Stingray was outfitted with a custom built Subwoofer enclosure, full lighting installation, and meticulous fabrication details. The factory flip-up cigarette lighter socket was painstakingly re-purposed into a custom-mounted Bass Level knob.  Accent pieces of molded Carbon Fiber throughout the car allow the Stingray's customizations to integrate seamlessly.  Extensive LED lighting fixtures are featured inside and out, illuminating two Flax subwoofers, as well as an FPS 1500 mounted below a transparent diecut window.  Even with its level of personalization, a panel in the trunk can be lifted to allow access to the battery compartment, preserving usability.
Click here to view the photos!
Thank you to all of our authorized dealers who participated. Keep submitting for a chance to win next month!